Hasil Skor – Cek Skor – Prediksi Skor – Liga Inggris – Juara bertahan Piala Liga Inggris, Manchester City, tersingkir dari ajang tersebut. Menjamu Newcastle United di Etihad Stadium, Rabu (29/10), The Citizens menyerah 0-2, sehingga gagal melangkah ke babak perempat final.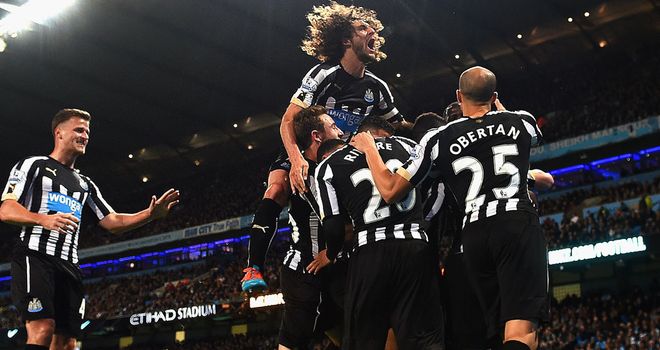 Winger berusia 18 tahun, Rolando Aarons, mengawali kemenangan Newcastle dengan golnya pada menit keenam. Moussa Sissoko melengkapi kesuksesan The Magpies di laga tersebut dengan golnya pada menit ke-76, untuk membukukan kemenangan ketiga dalam waktu 11 hari bagi tim besutan Alan Pardew tersebut.
Bukan cuma kekalahan yang didapatkan City dalam laga ini. Mereka juga harus kehilangan gelandang menyerang, David Silva, karena cedera lutut. Pemain internasional Spanyol itu ditarik keluar pada menit kedelapan setelah bertabrakan dengan bek lawan.
Pada pertandingan lain, Graziano Pelle menjadi bintang lapangan bagi Southampton, yang sempat unggul 2-0 atas tuan rumah, Stoke City. Meskipun bisa disamakan oleh Stoke, Southampton akhirnya menjadi pemenang untuk lolos ke babak delapan besar, setelah Pelle mencetak gol penentu pada manit ke-88, sehingga mereka menang 3-2. Sebelumnya, striker timnas Italia ini membawa Southampton unggul di menit keenam, lalu disusul gol Shane Long pada menit ke-31.
Tottenham Hotspur pun meraih kesuksesan untuk meraih tiket perempat final. Mereka menang 2-0 atas Brighton & Hove Albion berkat gol Erik Lamela pada menit ke-54 dan Harry Kane pada menit ke-74.